The Black Cement inspired Air Jordan 3 Desert is Nike's newest addition to the brand's 2021 collection. These AJ3 kicks are not to be confused with the Air Jordan 3 Camo Brown that also flaunts a similar colour theme but an entirely unique design. These Air Jordan 3 sneakers take inspiration from the OG Black Cement. If you wanna take a closer peek at these shoes, check out all the images below. Don't forget to also read the rest of this article to find out when and how to cop these kicks.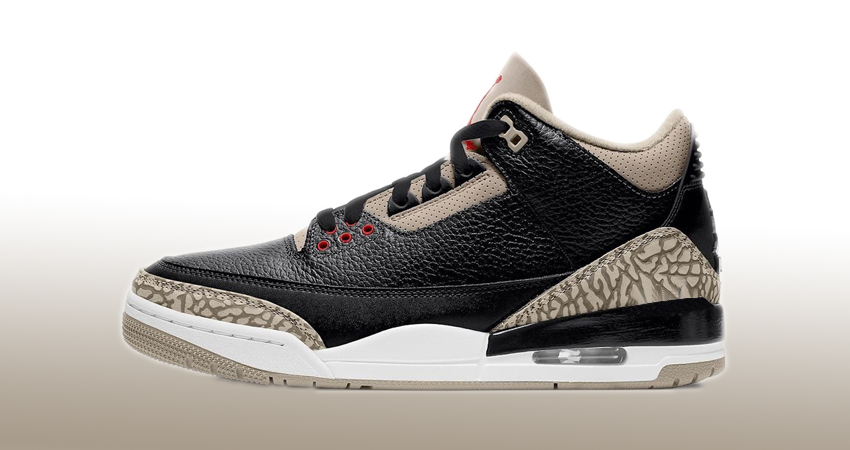 Nike is always busy bringing us the best pairs of footgear for every new season. The new Air Jordan 3 iteration is perfect for the upcoming autumn and winter days, so you might wanna add a pair to your collection.
You can rock these sneakers with all your favourite outfits during the upcoming seasons and stun the crowd with your seamless moves. The textured leather uppers give this pair a chic and luxurious look and feel. The classy colour theme is ideal for the autumn-winter days, too, so you better not miss out on this gorgeous Nike pair.
As you can see, the cracked textured beige-like leather overlays hit the toe tips and heels, and the same colourway colour blocks the back base on the tongues, collars, and lace panels. The two-tone look is incredibly captivating, while the overall design remains toned down and perfect for all occasions.
Underfoot, these shoes feature the classic style midsoles with exposed air bubbled that are responsible for all the comfort and boost you feel with each step. You'll definitely be at the top of your game with these groovy new Nike shoes on foot. It's time you gave your sneaker stash an upgrade, as Nike is here with the best sneakers in the game this season!
Traditional style laces keep the tongues securely tied into place and allow the user to adjust the shoes accordingly for a comfy and snug fit. Each step you take in these incredible shows will feel absolutely effortless every time. You better start clearing out your sneaker shelf to make room for the latest Nike AJ3 pair.
The iconic Jumpman logo hits the tongues in bold red, stealing all the attention! The minimal branding provides a super chic look that you can rock in countless unique styles on all occasions. You'll surely never run out of options for styling these gorgeous new Swoosh trainers, so hurry up and grab a pair before they're gone.
When it comes to performance, we all know team Swoosh always delivers the best. S, you can expect the utmost best performance from this pair too. Are you ready to take over the tracks with your flawless moves in these new Air Jordan 3 kicks? You'll find these Nike trainers at the select UK and European shops.
Please follow/share us to get coupons