The Nike Kyrie Low 4 is the most recent silhouette released from Nike and Kyrie Irving in this part of 2021. The fourth iteration of the low-cut but middle-tier Kyrie model deviates slightly from it's predecessors and visually aligns more towards the mainline Nike Kyrie 7. Aesthetics aside, however, we now are able to provide a performance review on the Kyrie Low 4.



Nike Kyrie Low 4 and previously released Nike Kyrie 7 feature the same outsole. If you're not familiar with the Kyrie 7 outsole, it's a computational pattern with thick, deep, tread, and oddly durability issues.
The pair tested featured an XDR outsole with nearly 100% indoor play so it's difficult to compare durability to the same outsole with standard rubber. As far as general performance, however, you can expect the same consistent reliability that has become a staple across multiple Kyrie signature lines.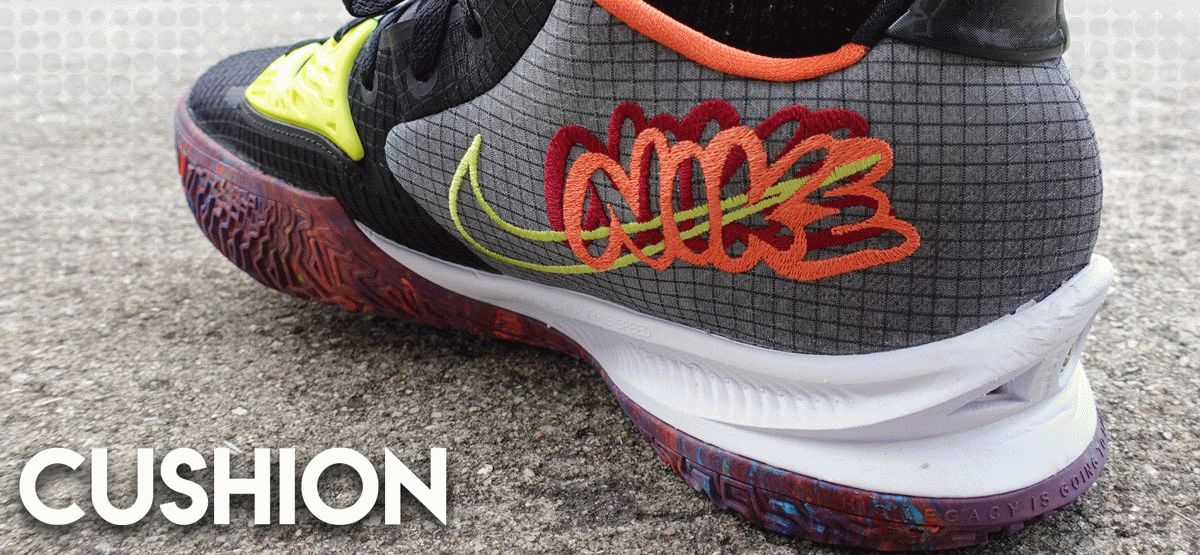 What you get in the midsole of the Kyrie Low 4 is a rather dense Cushlon foam compound and a small amount of Zoom coverage in the forefoot. Fortunately, there is an abundance of court feel which reduces clunk and enhances transition. Unfortunately, there does not seem to be a whole lot protecting against impact, so you may want to look elsewhere if that is a priority.


A "grid-patterned mesh" is the main material used on the Kyrie Low 4 which is great for flexibility and breathability but also makes getting your preferred fit vital as it's not designed to stretch like many other textiles or raw materials over time.
The use of ripstop-like materials and lightweight plastics epitomize modern performance basketball footwear, but that is not necessarily a the bad thing in the case of the Kyrie Low 4. The secure, yet mostly minimal nature of the upper truly feels like an extension of the foot and hardly leaves room to think about what you are wearing on-court.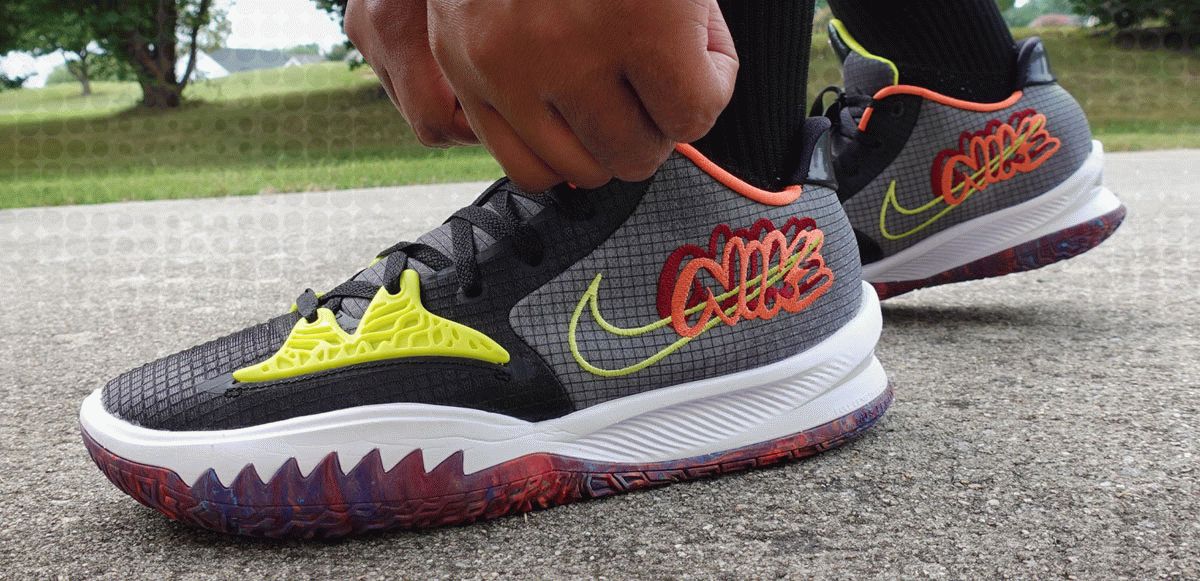 Though the pair I tested at a half-size smaller than my true size worked for me, I firmly believe most will prefer a little more breathing room at the toe by going true to size, so that's my recommendation.
At a half size down, the fit works for me once warmed up, but there will be a little more room for toe-splay in a slightly bigger size, considering the strength of the textile upper. Wide footers, try in-store if possible, or have a full understanding of return policies. I lean towards recommending a half size up for a wider foot – the TPU forefoot overlays could potentially warrant the need to size up.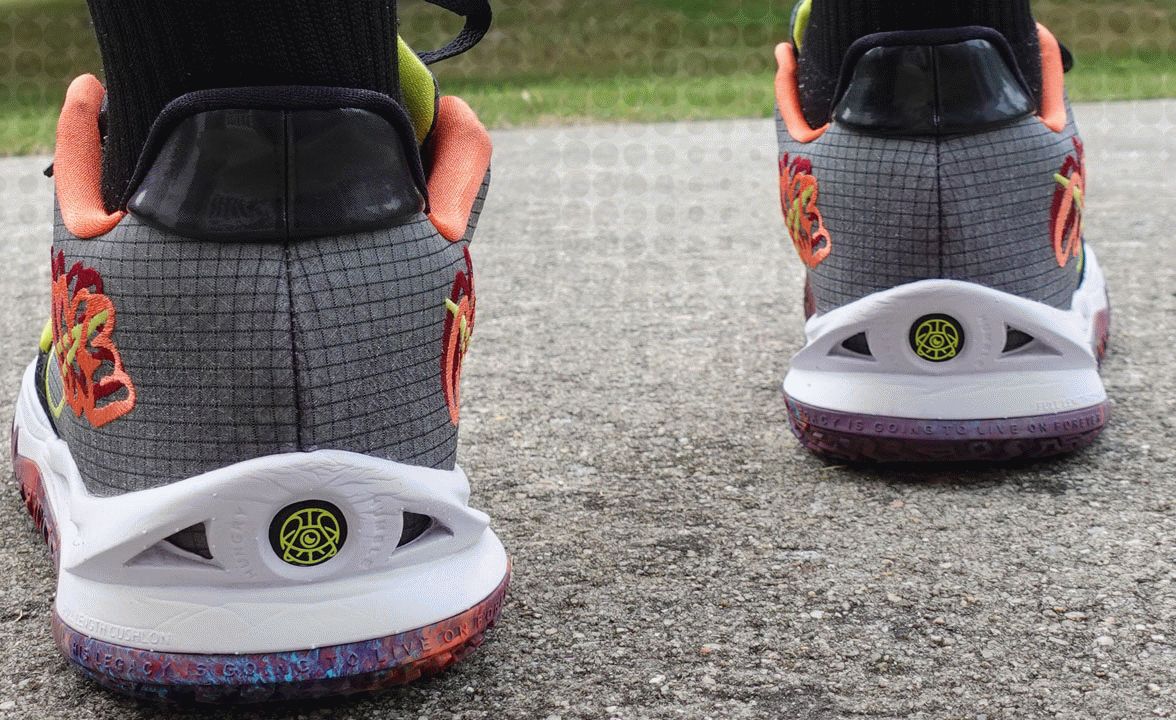 For a shoe that is so light in weight and not the widest, the Kyrie Low 4 does a fantastic job in terms of support.
The low-profile ride, strength in materials, and a proper fit will all combine to give an ultra-secure ride in all directions on-court.
I'm happy to report no issues with heel slip due to a strong internal heel counter. Even though I do not believe there is an internal shank for torsional support, one benefit is that the denser Cushlon midsole makes up for it – whether intentional or not. I'm very happy with how the Nike Kyrie Low 4 supports the foot.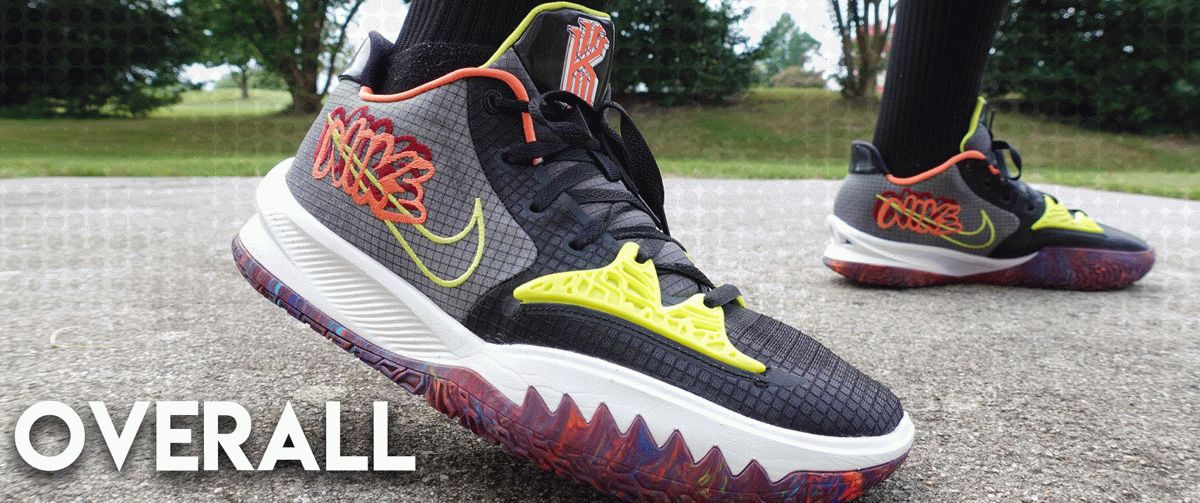 The Nike Kyrie Low 4 won't make the top of my list of favorite performers this year, but it is by no means a disappointment overall. In some ways, it was fun at times.
While I was disappointed with the cushion specifically, I imagine many players will (and may already) enjoy the smooth, lightweight setup both from the midsole and the entire shoe.
In summary, it's a decent performing silhouette at a reasonable price. You may want to avoid outdoor use just in case the outsole is not able to last, but otherwise, this pair of shoes fits in line very well with what we've come to expect from Kyrie's collection of sneakers by Nike.